It's been three months since the release of Wade's Wiggly Antlers. What an adventure it's been! I am so grateful for the incredible support I've received from Kids Can Press, bookstores, schools, libraries, family, friends and my community in Ottawa and Northern Ontario. Here's a roundup of my many big thank-yous.
Kids Can Press
I am most grateful to Yvette Ghionne at Kids Can Press who believed in my story and Wade, and for bringing on the incredibly talented Christine Battuz to illustrate the book. Kids Can Press was recently named Children's Publisher of the Year in North America at the annual Bologna Children's Book Fair. They are fabulous.
The Happening Festival
What an amazing way to introduce Wade's Wiggly Antlers to the world! From May 3-6th, kids were invited to play "Where in the World is Wade?", and find a toy moose hiding among maps. The event wrapped up with a sold-out launch party and reading.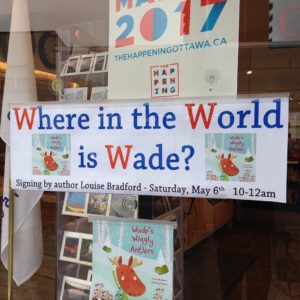 The party included Wade's favourite 'moss' cupcakes. One little reviewer described them as tasting "good and mossy".
I'm so thankful to the Festival, World of Maps and the families and kids who made this such a successful event.
Also very grateful for the full page article in Kitchissippi Times promoting the book and event.
School Visits
I owe a lot to principals, teachers and librarians. A big thrill in being a children's author is having the chance to visit schools and libraries to read to kids. Here are some pics from my visits to St. Joseph French Immersion in Wawa and St. Mary's French Immersion in Sault Ste. Marie. I was also thrilled to visit the Centennial Public Library where I met many little readers. The hand-print antler headbands have been a big hit!
Official launch party – Sault Ste. Marie
A whirlwind week in Sault Ste. Marie wrapped up with the launch party at Cafe Natura. I have to thank my mother, Carol Rouleau, especially, for all her hard work and organizational skills. She made sure I arrived on time to all the events and was a master baker in making those delicious 'moss' cupcakes.
Sales at Coles Bookstore were such a success throughout the week that all 60 copies were sold out before the launch! Not a bad problem to have and thankfully my guests were super understanding.  I was happy to sign the copies they had on hand, though!
So, a humungous thank you to everyone from the Soo who came and supported me and bought the book.
I'd also like to thank Darren Taylor from Soo Today for the terrific article promoting the book and event.
Bookstores
Coles and Chapters bookstores in Sault Ste. Marie and Ottawa have included Wade's Wiggly Antlers in their Celebrate Canada displays. It's a big year for Canada as we celebrate 150 years since Confederation. Canadian books play a big part in our history and I'm grateful to the bookstores who support and promote Canadian authors and illustrators. Numerous libraries and bookstores across Canada and the United States have added my book to their shelves. How exciting!
Reviews and bloggers
Throughout this adventure I've discovered the enormous contribution review journals and book review bloggers make in bringing books into the hands of little readers. I am so humbled by the positive reviews by:
Kirkus Reviews, School Library Journal, CM Magazine, Hamilton Review of Books, the Toronto Public Library, Canlit for Little Canadians, Denver Public Schools' Review Crew, Granite Library Media (Salt Lake City), and Townsend Public Library.
I was also incredibly honoured to be invited to contribute a guest blog post on acclaimed author Gail Anderson-Dargatz's website.
Reader's Pics
Every so often I receive an email from little readers across the country with photos of them reading my book. It's such a treat. Here's one from Smither's, B.C. Did you know you can read Wade's Wiggly Antlers upside down?
What's Next?
In the coming year there will be many more adventures with Wade's Wiggly Antlers, as Wade and I head to the West Coast. Stay tuned!