LOUISE BRADFORD is the author of Wade's Wiggly Antlers, published by Kids Can Press. The story was a finalist in the 2014 Writing for Children Competition, sponsored by TWUC and CANSCAIP. Louise is a two-time recipient of the Canada Council for the Arts' Artists and Community Collaboration Grant for her work with youth-at-risk. Her award-winning short film Full Circle was produced by CBC television and screened at the 2005 Ottawa International Writers Festival. Her short story Deep Cleaning was published by the Canadian Authors' Association, and she's had two personal essays produced by CBC radio.
Louise loves to spend time in Lake Superior Provincial Park where she encountered the little moose who inspired Wade. She lives in Ottawa, Ontario.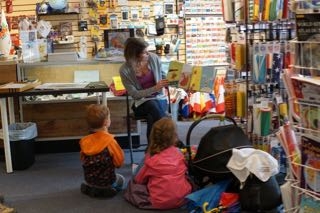 Follow Louise!
Twitter: https://twitter.com/LBradfordWriter
Instagram: https://www.instagram.com/lbradfordwriter/
Facebook: https://www.facebook.com/louisebradfordauthor/
You can also contact me through my agent, Hilary McMahon at Westwood Creative Artists
(416) 964-3302 X 230
hilary@wcaltd.com
For book orders/inquiries, please contact my publisher, Kids Can Press.
(416) 479-7000
Toll free: 1-800-759-0190
publicity@kidscan.com