Wade is worried. First his antlers wiggled. Then they wobbled. Now they're loose! Wade needs his antlers. Without them, how will he play Ping-Pong, catch a softball or give his friends rides? Wade is about to learn that change is a big part of growing up.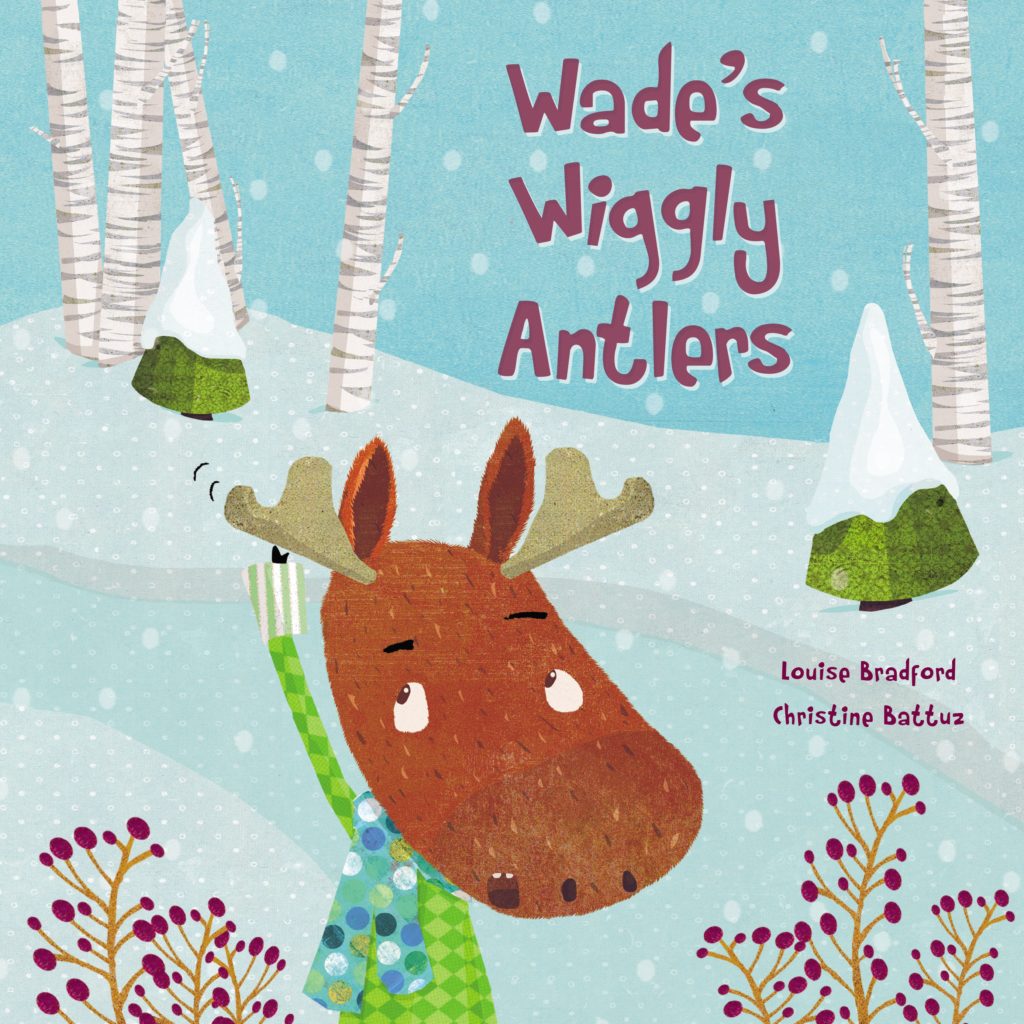 Press and Reviews
"Wade is a young moose who loves his antlers because they look like trumpets and birds can perch on them. He does not want to lose them, ever. When the antlers become wobbly, Wade takes precautions so they don't fall off. But sitting out of activities means that he misses out on fun and friendship, so he learns to accept the inevitable and enjoy what takes the place of his antlers. The Canadian-inspired illustrations show Wade and his forest friends playing outdoor hockey and wearing toques and checkered flannel shirts.
VERDICT Children dealing with change or experiencing loss will find comfort in Wade's positive outlook. A perfect choice for one-on-one sharing."
— School Library Journal, June 1, 2017
"Wade's walking through the snow and notices that the shadow of his antlers resembles trumpets. This makes him want to march, and he leads an impromptu parade through the forest. As he marches, he feels his antlers wiggling and abruptly stops the parade to run home and show his mother. She reminds him that she had told him before that his antlers would fall off and new ones would grow in the summer. Wade decides he doesn't want to lose his antlers so for a few days sits on the sidelines while his friends dance and play hockey and jump rope. Then he decides he can't wait any longer and tries to remove the antlers himself; no luck. Finally, after a day of tobogganing, he discovers that his antlers are gone! And sure enough, in the summer, two bumps sprout on his head, quickly growing into a pair of bigger trumpets. Bradford's text is substantial, bringing a bit more complexity and depth than many picture books and capturing a child's ambivalence about maturation; readers won't have to stretch to see the parallels between Wade's antlers and their impending loose teeth. Battuz plays with pattern, shape, and riotous color effectively.
A valuable lesson, nicely and sympathetically delivered."
— Kirkus Reviews, February 1, 2017
"This is a great book for kids who are growing up and are going through the first changes in life- the change of losing teeth!
The illustrations are very cute- my favorite picture is when Wade is sledding and one of the antlers is hanging down, kind of like when a child's tooth is just hanging on by a thread and looks all weird and funky!"
— Townsend Public Library (Massachusetts), May 16, 2017
"Wade's Wiggly Antlers is a delightful picture book that cleverly explores the topic that change is part of growing up. One winter's morning while playing with his friends, Wade, a young moose, feels his antlers wiggle. Worried, he hurries home, and his mother reminds him that his antlers will fall off and new ones will grow in the summer. But wiggly antlers change how Wade can plays games. When he decides to stop doing those things that might make his antlers get looser, he realizes that he's missing out on the fun. Wade decides that it's time to lose his antlers. The next day when he arrives at the bottom of the hill after a bumpy toboggan ride, he feels something different; his antlers are gone. His mom prepares cupcakes for a celebration and places Wade's first antlers in a special box. Then he waits for his new one to appear.
     The young audience will enjoy the engaging story that shows Wade worrying about his loose antlers and how that affects his daily activities. The reassurance that Wade's mother gives him shows that change is normal. Children, especially those who have had loose teeth, can relate to such an experience. The story lends itself to further discussion about dealing with changes as we grow.
     Louise Bradford's appealing story is accompanied by Christine Battuz's amusing illustrations that incorporate a variety of techniques including pattern, shape, shadow and colour. These pictures draw the reader in to closely examine the many delightful features of each page. The partnering of the text and the art adds humour and enhances the characterization of Wade and his friends. Bradford's text may be slightly challenging for the very early reader, but the richness of the words and sentences adds to the charm of the story. This also makes it a great read-aloud. Highly Recommended."
— CM Magazine, University of Manitoba, May 12, 2017
"Let Wade and his friends help lighten your own children's anxieties, whether it be about loose teeth or some other growing up change, or, if they're fearless, use Wade's Wiggly Antlers to teach some science about seasonal changes and ecology.  Either way, there's some playful learning to be had.
— Canlit for Little Canadians
" An original allegory for a child losing a first tooth."
— Toronto Public Library's New and Noteworthy.
"Losing one's teeth is an important rite of passage in any young person's life, but can you imagine losing a pair of antlers? Wade's Wiggly Antlers is a humourous look at how bodies change, whether you're a human or a member of the animal kingdom. Bradford's careful prose will help teachers and parents teach empathy through the guise of a highly entertaining and energetic read."
— Hamilton Review of Books.